---
*You can also place an order by email: This e-mail address is being protected from spambots. You need JavaScript enabled to view it
Currently there's limited quantity of some RAV models available, so we can ship them within one week without waiting line if you pay same day. Please send an email to This e-mail address is being protected from spambots. You need JavaScript enabled to view it to inquire which scales are available today.
This is a truly revolutionary instrument in a family of metal tuned
percussion. Due to special patented technology there's up to 6 harmonics
tuned on each tongue. On a central note of drum there's 7 harmonics
tuned. It's possible to separate those harmonics and extend the range
of the instrument to full 2 octaves of the scale. Imagine 9 bells tuned to
the scale and on each of them all the partials are tuned as well!
That's how we would describe the sound of this instrument.
We offer 2 models: RAV VAST (1.5mm steel) and RAV VAST2 (2mm steel).
RAV VAST2 is made from thicker steel and it's approx. 15% louder then
RAV VAST, but has a bit less overtones. Both models has nice long sustain.
Please note:
 - VAST2 is not an improved model of the instrument. It's just
a variation with slightly different tone. Some scales works on 1,5mm steel
and some works better on 2mm steel.
- It's not technically possible to make VAST scales on VAST2.
- VAST and VAST2 is the same price.
The RAV Vast is about 4.9kg, and the Vast 2 is about 5.9kg. The models
are scale related. To hear the examples of the sound of the each model
please scroll down this page.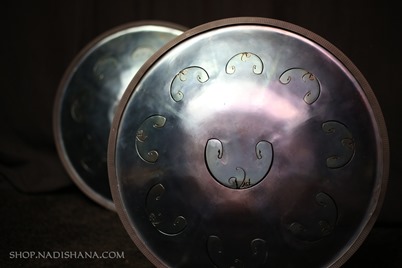 Nadishana & Andrey at RAV workshop:

The instrument is developed and being made by Andrej Remjannikov.
It's fine tuned instrument which can be played by beginners and by
professional musicians. It can be used for the stage performances,
studio recordings and for healing sound sessions as well.
A variety of musical scales is offered to you, allowing you to choose
your favorite tuning.  
The instrument was inspired by the famous Swiss made hang drum.
Demo RAV VAST A Integral
scale (A2)CEFGABCE
Demo RAV VAST G Pygmy,
scale (G2)CDEbGBbCDF
Demo RAV VAST 2 B RUS
scale (B) D F# A C# D E F# A

Demo (RAV VAST2 B Onoleo,
scale (B2) F#3 G3 B3 D#4 E4 F#4 G4 B4

Demo RAV VAST2 B Celtic Minor,
scale (B2) F#3 A3 B3 C#4 D4 E4 F#4 A4

Demo RAV VAST2 D Celtic Minor,
scale (D3) A3, C4, D4, E4, F4, G4, A4, C5
E Low Pygmy (available again!)
scale (E2) A2, B2, C3, E3, G3, A3, B3, D4
(n ew!) RAV VAST2 B Celtic Minor Double Ding 10,
scale (B2) (A2) F#3 A3 B3 C#4 D4 E4 F#4 A4
(new!) RAV VAST2 B Golden Arcadia 
(B2) D#3 F#3 A#3 B3 C#4 F4 F#4 G#4
(new!) RAV VAST2 B Pygmy
(B2) E3 F#3 G3 B3 D4 E4 G4 A4

RAV VAST2 G Minor Pentatonic
(G2) D F G A# C D F G:

VAST2 C Golden Gate
(C3), E3, G3, B3, C4, D4, F#4, G4, B4
Sound samples of all available scales:
RAV VAST:
A Integral
   (A2), C3, E3, F3, G3, A3, B3, C4, E4
Audio clip: Adobe Flash Player (version 9 or above) is required to play this audio clip. Download the latest version here. You also need to have JavaScript enabled in your browser.
G Pygmy   (G2), C3, D3, D#3, G3, A#3, C4, D4, F4
Audio clip: Adobe Flash Player (version 9 or above) is required to play this audio clip. Download the latest version here. You also need to have JavaScript enabled in your browser.
A RUS (RAV universal scale)   (A2), C3, E3, G3, A3, B3, C4, D4, E4
Audio clip: Adobe Flash Player (version 9 or above) is required to play this audio clip. Download the latest version here. You also need to have JavaScript enabled in your browser.
G minor pentatonic (G2) D F G A# C D F G
Audio clip: Adobe Flash Player (version 9 or above) is required to play this audio clip. Download the latest version here. You also need to have JavaScript enabled in your browser.
E Low Pygmy (available again!)
(E2) , A2, B2, C3, E3, G3, A3, B3, D4
Audio clip: Adobe Flash Player (version 9 or above) is required to play this audio clip. Download the latest version here. You also need to have JavaScript enabled in your browser.
RAV VAST 2:
D Celtic Minor  (D3), A3, C4, D4, E4, F4, G4, A4, C5
Audio clip: Adobe Flash Player (version 9 or above) is required to play this audio clip. Download the latest version here. You also need to have JavaScript enabled in your browser.
B Onoleo  (B2) F#3 G3 B3 D#4 E4 F#4 G4 B4
Audio clip: Adobe Flash Player (version 9 or above) is required to play this audio clip. Download the latest version here. You also need to have JavaScript enabled in your browser.
B Celtic Minor  (B2) F#3 A3 B3 C#4 D4 E4 F#4 A4
Audio clip: Adobe Flash Player (version 9 or above) is required to play this audio clip. Download the latest version here. You also need to have JavaScript enabled in your browser.
B RUS (B), D, F#, A, C#, D, E, F#, A
Audio clip: Adobe Flash Player (version 9 or above) is required to play this audio clip. Download the latest version here. You also need to have JavaScript enabled in your browser.
D Major   (D3), G3, A3, B3, C#4, D4, E4, F#4, A4
Audio clip: Adobe Flash Player (version 9 or above) is required to play this audio clip. Download the latest version here. You also need to have JavaScript enabled in your browser.
C Golden Gate   (C3), E3, G3, B3, C4, D4, F#4, G4, B4
Audio clip: Adobe Flash Player (version 9 or above) is required to play this audio clip. Download the latest version here. You also need to have JavaScript enabled in your browser.
B Celtic Minor Double Ding 10

(new!)

 

(B2) (A2) F#3 A3 B3 C#4 D4 E4 F#4 A4
Audio clip: Adobe Flash Player (version 9 or above) is required to play this audio clip. Download the latest version here. You also need to have JavaScript enabled in your browser.
B Golden Arcadia (new!) 
(B2) D#3 F#3 A#3 B3 C#4 F4 F#4 G#4
Audio clip: Adobe Flash Player (version 9 or above) is required to play this audio clip. Download the latest version here. You also need to have JavaScript enabled in your browser.
B Pygmy (new!) 
(B2) E3 F#3 G3 B3 D4 E4 G4 A4
Audio clip: Adobe Flash Player (version 9 or above) is required to play this audio clip. Download the latest version here. You also need to have JavaScript enabled in your browser.
Got some questions? Please
read the FAQ
or write us: info(at)nadishana.com