Your Cart



Your Cart is currently empty.
---
Who's Online
We have 95 guests online
Payment Methods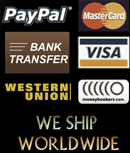 The prices on a site are shown without shipping costs and VAT. After we'll get your order we'll come back to you with final calculation including shipping costs, VAT and payment methods.
We offer the design for your CD/DVD and webdesign. Please contact us for the details.